If you didn't know, the Smart Oven® Air from Breville is currently on sale until the end of the month and we're completely obsessed with it! The super convection setting reduces cooking time by 30% with great crispness. Get ready for Thanksgiving with one of our must-have kitchen appliance. Here are 3 easy thanksgiving recipes you can cook in your Smart Oven® Air.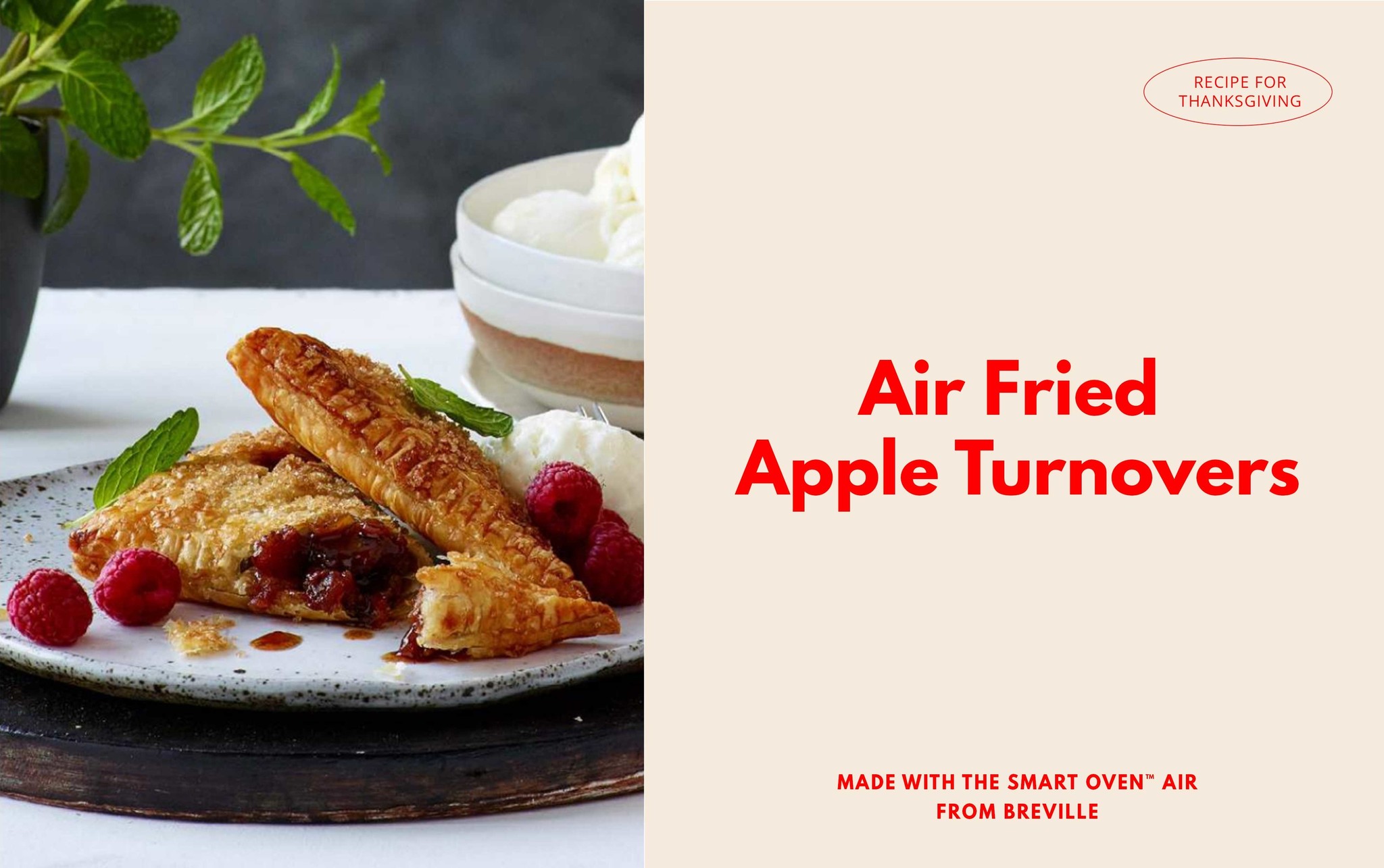 1. Air Fried Apple Turnovers
Preparation 30 min. + Chilling 20 min. | Cooking 2h | Servings 8
Filling:
3 medium Granny Smith apples, peeled and diced (about 3 cups)
2 tablespoons (30g) unsalted butter
1/3 cup (70g) dark brown sugar
1 teaspoon vanilla extract
1 teaspoon lemon juice
¾ teaspoon ground cinnamon
¼ teaspoon kosher salt
For turnovers:
2 sheets frozen puff pastry (17-ounce/480g package), thawed (keep cold until use)
1 egg
1 tablespoon water
Turbinado sugar for sprinkling
Method:
Combine filling ingredients in a medium saucepan and cook over medium heat, stirring occasionally, until apples are tender and syrup is thick, about 10 minutes.
Transfer apple mixture to a plate and chill in the refrigerator until cool to the touch, about 20 minutes.
Scramble egg and water in a small bowl.
Place 1 sheet of puff pastry on a clean cutting board; reserve second sheet in the refrigerator.
Divide pastry into 4 equal squares. Spoon 2 tablespoons apple mixture onto the center of each square.
Brush the edges of each square with egg wash. Fold pastry diagonally over apple mixture and seal the edges with a fork.
Place turnovers on a plate and refrigerate while preparing remaining turnovers. Repeat steps 4 to 6 with second sheet of puff pastry.
Select AIRFRY/325°F (165°C)/SUPER CONVECTION/20 minutes and press START to preheat oven.
Place turnovers on airfry rack. Brush tops with egg wash and sprinkle with turbinado sugar. Make 3 small slits in each turnover.
Cook in rack position 4 until puffed and golden brown, about 20 minutes. Serve warm or at room temperature.
Tip: Use a pizza wheel to easily cut the puff pastry sheets.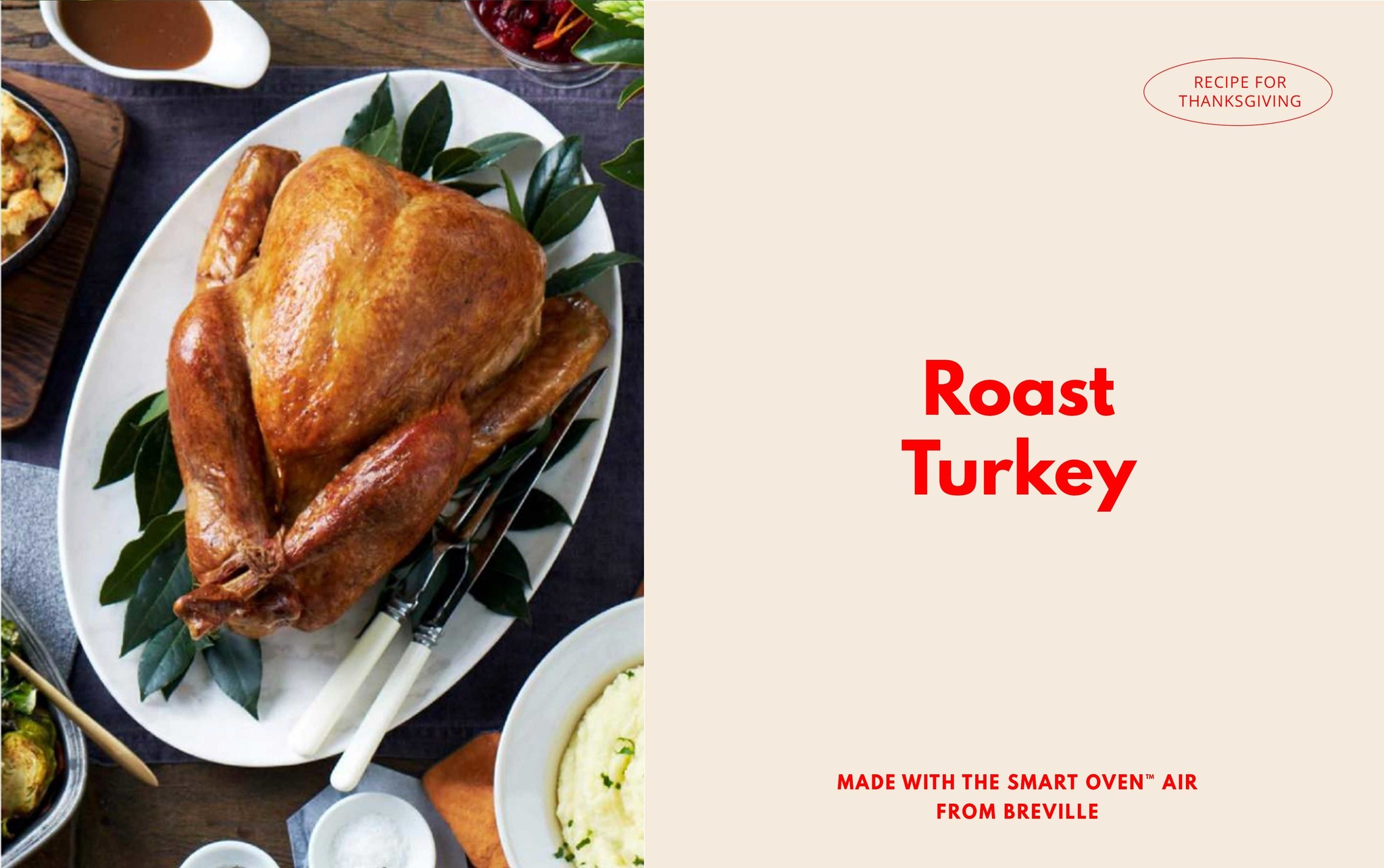 2. Roast Turkey
Preparation 15 min. + Resting 1 h | Cooking 2h + Resting 30 min. | Servings 12-14
Ingredients: 
12-14 pound (5.4 to 6.4kg) whole turkey
2-3 tablespoons kosher salt
2 teaspoons ground black pepper
1 small onion, quartered
4 to 6 garlic cloves, peeled
½ lemon, halved
6 to 8 sprigs thyme (optional)
2 to 3 sprigs rosemary (optional)
6 sage leaves (optional)
¼ cup (55g) unsalted butter, melted
Special equipment:
Method:
Remove turkey from the refrigerator and allow it to come up to room temperature for one hour before roasting. Remove giblets, rinse turkey and use paper towels to thoroughly pat dry in the inside and outside of the turkey.
Combine kosher salt and pepper in a small bowl. Liberally season the inside and outside of the turkey with the salt and pepper mixture. Stuff the cavity with the onion, garlic, lemon and desired herbs.
Tuck turkey wings under the back and tie the legs with kitchen twine. Brush the outside of this turkey with melted butter.
Insert wine rack in rack position 8. Select ROAST/325°F (165°C)/CONVECTION/2 hours. Press START to preheat oven.
Line a jelly-roll or other shallow pan with foil and place the included broiling rack in the pan. Place turkey, breast side up, on broiling rack. Cook until a thermometer inserted in the thickest part of the breast reads 150°F (66°C), and the thickest part of the thigh reads 165°F (74°C). Carefully rotate the baking pan halfway through cooking. The total cook time will vary depending on the size of the turkey.
Remove turkey from oven, very loosely tent with foil and allow to rest for 30 minutes before carving. Do not skip this step, as the temperature of the turkey will continue to rise during resting, ensuring it is fully cooked through.
Note: Depending on the size and shape of the turkey, it may be necessary to crack the breastbone so that the turkey will fit in the oven. To do this, place the turkey on a stable surface and press firmly on the breastbone until it cracks. Repeat this several time, until the top of the turkey is slightly flattened.

3. Lasagna
Preparation 1.5 h | Cooking 30 min. | Servings 8
Meat sauce:
1 tablespoon olive oil
1 large onion, finely diced
6 cloves garlic, minced
2 medium carrots, peeled and grated
2 stalks celery, finely diced
2 pounds (1kg) ground beef
2 tablespoons red wine vinegar
Pinch of sugar
1 28-ounce (780g) can crushed tomatoes
1 6-ounce (170g) tomato paste
½ cup (12g) fresh basil leaves, chopped
1 tablespoon kosher salt
1 teaspoon freshly ground black pepper
Béchamel sauce:
5 tablespoons (70g) unsalted butter
¼ cup (35g) all-purpose flour
4 cups (1L) milk
1 cup (60g) finely grated Parmesan cheese
1 teaspoon kosher salt
¼ teaspoon freshly ground black pepper
To assemble:
12 no-boil lasagna sheet
½ cup (30g) finely grated Parmesan cheese
Method:
Heat olive oil in a large, deep sauté pan over medium heat. Add the onion, carrot and celery and cook, stirring occasionally, for 5-7 minutes or until softened. Add garlic and cook for 1-2 minutes or until fragrant.
Increase the heat to medium-high and add the ground beef, salt and pepper. Break up the meat with a wooden spoon and stir for 4 minutes, until meat is cooked through but not browned.
Add the vinegar and cook, stirring occasionally, until it has evaporated. Add the sugar, crushed tomato paste and stir to combine. Bring to a boil, then reduce heat and simmer, uncovered, for 20 minutes. Remove pan from the heat, stir in the basil and set aside.
Melt the butter in a medium saucepan over medium heat until foaming. Add the flour and cook, whisking constantly, for 1 to 2 minutes or until mixture bubbles and begin to come away from the side of the pan. Remove the pan from the heat and add the milk all at once, whisking constantly to avoid any lumps. Return the pan to the heat and bring to a boil.
Reduce heat to medium-low and simmer, stirring constantly with a wooden spoon, for 7-10 minutes or until sauce thickens and coats the back of the spoon. Remove from the heat and stir in the grated Parmesan, salt and pepper.
Spread ¼ of the meat sauce (about 2 cups/480ml) evenly on the base of a 9 x 13-inch (23 x 33cm) baking dish.
Place 4 of the lasagna sheets over the sauce (they will overlap slightly). Spread another ¼ of the sauce over the pasta followed by 1/3 of the béchamel (about 1 ½ cups/360ml). Continue layering the pasta, meat sauce & béchamel twice more, finishing with the béchamel. Sprinkle with grated Parmesan.
Insert wire rack in rack position 6. Select BAKE/375°F (190°C)/CONVECTION/30 minutes. Press START to preheat oven.
Cook lasagna for 25-30 minutes or until bubbling and browned on top.
Let rest for 15 minutes before cutting and serving.
More about the Smart Oven® Air with Element IQ® from Breville:
The Smart Oven Air is the tool for the cook who desires a countertop oven that can roast for large gatherings, air-fry crispy French fries & snacks and dehydrate a wide range of healthy foods. It is currently on sale at $479.99 instead of $599.99 until the end of the month.
Make it yours now.
*These recipes are not a creation of Ares Cuisine, they are a creation of Breville (including the photos).